a
a
Our Tenku Dining, Tenku Spa and Lounge will be closed temporarily as the government call to conserve electricity.
Closed Period: From 11 January to 15 March 2024.
We apologize for the short notice, and hope for your kind understanding.
Now we are offering rental car service our luxury EVs with snow studress tires for your comfort drive from Tokyo to Karuizawa.
Please kindly find out more detail through our booking
website
.
*Stay villas are open as usual. We are looking forward to welcoming you.
Asama Kuzanbo is introducing exclusive autumn stay packages starting from September 18th. Enjoy the beauty of North Karuizawa's autumn foliage gracefully via our helicopter transfer package or combine it with resort golf through our golf play package starting from September 25th.
🚁 Helicopter Transfer Stay Package (Starting from Sep 18)
Experience stress-free travel, arriving in about 50 minutes while enjoying breathtaking views from the helicopter, including Tokyo Bay and Usui Pass. 🏔️✨ Optional helicopter cruising is available.
For more detail and reservations, please visit here.
Eligible period: from Friday, September 15, 2023 to Sunday, November 26, 2023.

⛳ Golf Play Stay Package (Starting from Sep 25)
Partnering with "Karuizawa Kogen Golf Club," this package offers the beauty of autumn foliage, travel, and golf. On arrival day, savor the views from your room. The next morning, indulge in resort golf just a 5-minute drive away.
For more detail and reservations, please visit here.
Eligible period: from Friday, September 25, 2023 to Sunday, November 26, 2023.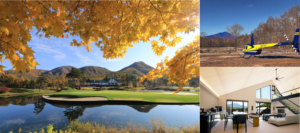 Asama Kuzanbo will renew our restaurant, Teku Dining, on July 15 (Sat.).
The renewal includes a new menu Terrace BBQ set with your beloved dogs, as well as a dog-run specially reserved for the restaurant visitors.
At the same time, we will also start a dinner-time for day-use visitors by reservation only 🌙🏔.
BBQ is a totally hassle free: a complete set of tools are prepared. There are a covered roof and mosquito nets on the terrace, so you can enjoy your BBQ comfortably without worrying about the weather or insects 🐶.
We also have a new menu for doggies and a new swing to enjoy commemorative photos in the dog-run.
During dinner time, we will offer a BBQ featuring carefully selected luxury ingredients such as A5 Matsusaka beef, abalone and sea bream, and conger eel shabu-shabu (summer season only),which were previously only available to stay-guests, as well as a set menu available only for dinner at Tenku Dining.
Please visit and spend a premium moment at Tenku Dining, a restaurant with a spectacular view of Mount Asama.
– Tenku Dining –
Opening Hours
Lunch: 11:00-15:00 (L.O. 14:30)
Dinner: 17:30 – 21:30 (L.O. 22:00)
Closed: Tues and Weds (Open everyday in July and August)
-Terrace BBQ-
1. Terrace BBQ is available for 120 minutes.
2. Reservation required (by 6:00 p.m. on the day before your visiting date).
For more detail and reservation available from the link here (Japanese only)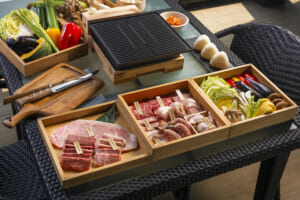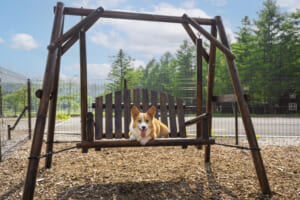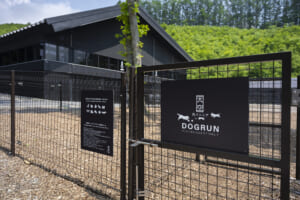 New Stay Package for Golfers!
We have partnered with Karuizawa Kogen Golf Club to offer a special limited time offer to enjoy fresh greenery, travel, and golf together, starting this Friday, May 12! (Booking is now available from official booking website)
On the first day, you can enjoy forest bathing on the deck terrace at Asama Kuzanbo with a spectacular view of fresh greenery and Mt. Asama view, indulge in a meal made with specially selected ingredients, and enjoy a relaxing trip for next day activitiy.
The next morning, you can enjoy a round play of resort golf at Karuizawa Kogen Golf Club, a 5-minute drive from the resort, while also enjoying the fresh highland breezes and beautiful fresh greenery. ⛳️🌿
Private round lessons by a professional golf coach are available as an option for those who are just starting to enjoy golf.
This is also a great option for intermediate and advanced golfers who want to correct their swing and improve other details.
For more details, please visit here.
Eligible period: from Friday, May 12, 2023 to Friday, July 14, 2023.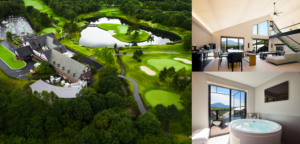 – INTERPET TOKYO 2023 –
We are pleased to announce our participation in one of the largest domestic pet events in Japan, the 12th Interpet – Fair for Rich Living with People and Pets, to be held at Tokyo Big Sight from March 30th, 2023 (Thursday) for four days 🐶
At the event, we will offer a photo spot where you can take lovely photos with your beloved dogs, as well as exclusive gift and giveaway campaigns.
Asama Kuzanbo Booth will be in East Hall 3, Booth G026.
Please come and visit us, our staff are looking forward to seeing you and your beloved pets.
[Event Overview]
Period: March 30th (Thursday) – April 2nd (Sunday), 2023
Opening hours: 10:00 – 17:00
Venue: Tokyo Big Sight East Hall 3
*From 31st April to April 2nd, the event will be open to the general public
*Please purchase an admission ticket in advance. Pets are also welcomed to enter the venue.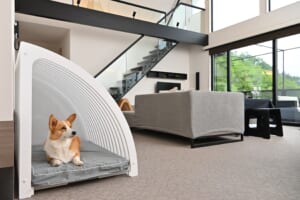 In collaboration with Audi Japan Sales, presenting premium and exclusive Audi drive trip and stay in Asama Kuzanbo for 2D1N.
Total 6 winners – 2 persons per group – will win this campaign.
Application Period: 17 January 2023 to 26 February 2023
Stay Period: 2D1N from 9 April 2023 to 26 May 2023
(except Golden Weeks, Saturdays and the day before public holidays)
Find out more via link here *in Japanese only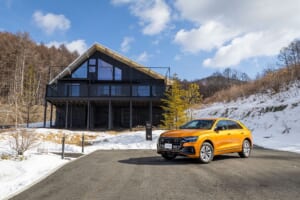 From early summer to mid Autumn, ASAMA KUZANBO lives with many kinds of incects.
To ensure your comfort stay, the resort have prepared mosquito coils inside and outside the villas, however we are surrounded by full of nature.
Please kindly bring your mosquito repellents. Thank you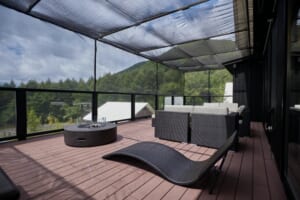 Villa Terrace with Mosquito Net (from Jun to Oct)